Giclée Prints









(above is just a sample of what is available)
My giclée fine art prints are available through a print-on-demand service called Fine Art America. Prints are an affordable way to own artwork, and generally are nearly indistinguishable from the original. You can order them not only on your choice of papers and canvases, but you can also have them framed in the style of your choice so they arrive ready to hang if you wish. If you order on paper, I recommend Somerset Velvet or Watercolor paper for its heavy weight and texture. When ordering prints of a painting, however, I really recommend printing on canvas.
Note that these prints are NOT signed by me. They are sent directly from the printer to you.
Go to the Giclée Prints Storefront
If you'd prefer something that is a unique original, try my artist enhanced prints:
Aritst Enhanced, Signed Giclée Prints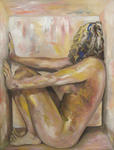 If you want to buy an artist-enhanced print, which means that I have taken the print and added to it with real paint and made it therefore unique, and then signed it, you need to decide what print you want at the standard Giclée Prints Storefront (opens in a new tab/window--you'll need it open alongside the order form.)
Decide which image, what size, and whether you want it printed on canvas or paper, and what options you want (canvas wrap/paper type/frames/etc.) and then with that page still open (you will need information from it) fill out the form on the Enhanced Print Order Page.
---
Specials: Limited Quantity Signed Prints Direct from Me
I have a limited number of signed giclée prints on hand at home.
Please visit the Specials page to see the current selection.
These are signed prints at a discounted price. Prices include shipping.
All contents © 2008 - 2013 by Katherine (Fernie) Howard, all rights reserved. Contact me
For upcoming shows and other announcements, join my low-volume mailing list.